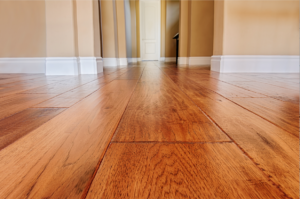 Hardwood flooring is durable and attractive, but it can be damaged by daily foot traffic, scraping furniture, and pets' claws. Scratches and dents can detract from its appearance and may even turn it into an eyesore.
Installing new flooring is costly. For a fraction of the cost, you can refinish your hardwood floors and have them look like new. If your home's flooring could use a refresh, contact Barbati Hardwood Flooring to get a quote for hardwood floor refinishing in Long Branch NJ.
How We Can Restore Your Hardwood Floors
Our team can clean the floor and then use a sander to remove the top layer. That can reveal a layer of undamaged wood beneath.
Once we have sanded the floor and smoothed it out, we will be able to apply a stain and a polyurethane coating, varnish, or sealer to protect the wood from future damage. Polyurethane is available in a variety of colors. Varnish will make the wood a darker shade. A sealer is a clear coating that will have little effect on the color of the wood floor.
Why You Should Hire Professionals for Hardwood Floor Refinishing in Long Branch NJ
You may have seen videos online explaining how to sand and refinish floors yourself. The process isn't as easy as it may seem. For starters, sanding machines are difficult to control and maneuver if you haven't had appropriate training. If you make a mistake, you can damage the floor. Then you may have to hire a professional to fix it.
Applying a finish can also be challenging. It will need to be applied in thin coats and in straight lines. If the finish goes on unevenly or accumulates more in some areas than others, it can negatively impact the final appearance of the floor.
Request a Quote for Hardwood Floor Refinishing
At Barbati Hardwood Flooring, we have the training and experience to do the job right. We can sand down your floor to get rid of damage and imperfections and restore it to its original beauty. Our team can also help if your home has antique wood flooring. We have restored floors in numerous historic homes. Call us today at (484)354-8869 to learn more or to get an estimate.