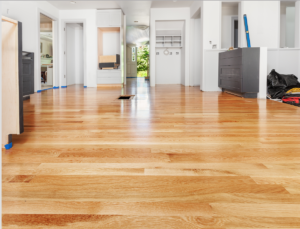 Installing hardwood flooring in your home or business is a major project that can have a dramatic impact on the appearance of the building. Hardwood flooring is one of the first things people will notice when they walk through the door, so you should choose an experienced custom hardwood flooring contractor to make sure the job is done right.
Barbati Hardwood Flooring has been serving West Chester, PA, and the surrounding area since 1987. Due to our high-quality products and installation, today, the vast majority of our business comes from repeat customers and referrals.
Types of Hardwood Flooring We Can Install
If you're interested in a new hardwood floor, you have many options available. Members of our team have experience working with:
Engineered wood flooring
Pre-finished wood flooring
Unfinished wood flooring
Staple flooring
Nail-down flooring
Glue-down flooring
Floating flooring
Custom Hardwood Flooring Design Options
We can also create a decorative pattern to give your hardwood flooring a unique look that visitors will immediately notice. We can do that by installing:
Corners
Accent borders
Custom border inlays
Medallions
A decorative corner can serve as an accent to make a room more visually appealing.
A border can draw attention to an important element in a room and create a visual flow. It can be placed around the perimeter of a room, at a transition area between two rooms, or around a fireplace or another feature.
Inlaid borders are placed around rooms, fireplaces, and other areas to create visual appeal. Different types of hardwood can be used to create patterns, geometric shapes, and images.
A medallion is a circular hardwood inlay that is intended to serve as a focal point in a prominent location, such as a living room or foyer. The design options are nearly limitless. Creating medallions is a complicated and painstaking process. If you choose to have the team at Barbati Hardwood Flooring create a medallion for your home or business, you will see the quality of our craftsmanship on full display.
Get an Estimate
Hardwood flooring is a major investment. If you want to install new flooring in your home or business, you should choose a custom hardwood flooring contractor carefully. Contact Barbati Hardwood Flooring at (484) 354-8869 to learn more about our services and to request a quote.