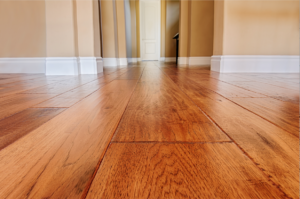 Since 1987, Barbati Hardwood Flooring has been serving homeowners and businesses in the West Chester, PA, area and beyond. We are a hardwood floor specialist that can install new flooring or refinish and restore your existing hardwood floors.
Hardwood Floor Installation
If you have been thinking about installing a new hardwood floor, we can help! We work with an array of products, including:
Unfinished wood flooring
Pre-finished wood flooring
Engineered wood flooring
Nail-down flooring
Staple flooring
Glue-down flooring
Floating flooring
We can install a simple hardwood floor or create a unique look with a medallion, inlay, border, or corner. Choose from the wide selection of flooring we have to offer, or select your flooring from a different source and allow the professionals at Barbati to install it for you, hassle-free!
Hardwood Floor Refinishing and Restoration
Hardwood floors can become damaged from years of people and pets walking on them and furniture scraping the surface. If your hardwood flooring is scuffed and scratched, we can sand, refinish, and repair it to make your home or business look as beautiful as it did when the flooring was installed. One of the benefits of our many years of experience is our expertise when it comes to restoring floors in historic homes. Sometimes, replacing hardwood flooring in a historic house is a mistake. Old floors may be of better quality than new flooring available today.
Instead of replacing wood flooring in a historic house, we may be able to sand it down and restore it to its original beautiful appearance. If the hardwood floor does need to be replaced, we can locate antique flooring to create the best match possible. If your hardwood floor has stains or large scratches, it may need to be repaired and patched before it can be We can remove sections of damaged wood and replace the boards before restoring the floor. Our team can repair and refinish stairs that are worn out from years of foot traffic. We can even use overlays to give you new stairs with a different wood species.
Get a Quote for Hardwood Floor Installation or Restoration
Barbati Hardwood Flooring has earned a reputation as a trusted hardwood flooring specialist. Whether you want to install new hardwood flooring or you have an existing floor that needs to be repaired and restored, we're up to the challenge. Call us at (484)354-8869 to learn more about how we can help you and to request an estimate.