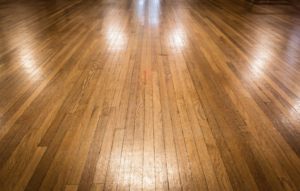 Hardwood flooring is beautiful right after it's installed, but over time, it can become damaged. Furniture can scrape the surface, shoes and pets' claws can cause scratches, and water from spills or leaks can produce damage. Uneven surfaces can create a safety hazard. If the flooring in your home is damaged, hardwood floor refinishing may be the solution. Barbati Hardwood Flooring provides Darby, PA and the surrounding area with expert service.
How Damaged Flooring Can Lead to Accidents
If a hardwood floor has scratches, gouges, and dents, the uneven surface can create a tripping hazard, especially for toddlers, senior citizens, and people with limited mobility. If someone walks across a damaged area while barefoot, that may result in painful splinters. Water damage can cause cupping, or depressions in the floor, which can make someone trip.
Refinishing Can Make Your Floors Look Like New and Improve Safety
The team at Barbati Hardwood Flooring can use sanding machines to remove the damaged top layer of wood and reveal a new layer of smooth, undamaged wood underneath. Sanding may not be able to eliminate deep scratches and gouges in the floor, however. If we can't repair some heavily damaged sections, we can replace those boards. We can then apply a new layer of stain to give the floor a rich color and to protect it from future damage.
Refinishing can save you a significant amount of money since it can allow you to put off replacing your hardwood flooring. You will most likely be able to refinish your floors several times before they need to be replaced. In fact, your existing hardwood floors may last for as long as you own your house or business.
Get an Estimate for Hardwood Floor Refinishing for Darby PA
Barbati Hardwood Flooring has been serving homeowners and business owners in Pennsylvania since 1987. We have earned a reputation for providing excellent results, and today, nearly all our clientele consists of repeat customers and referrals.
We can refinish the hardwood floors in your home or business to make them smooth and make the building safer for your family or customers. Call Barbati Hardwood Flooring today at (484)354-8869 to request a quote for hardwood floor refinishing or to learn more about the process.