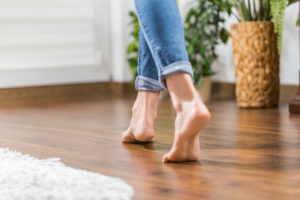 If you're planning to sell your house, you need to make sure that buyers will form a positive first impression. Worn-out hardwood flooring can be an instant turnoff and can cause people to pass on a house that may be in otherwise good condition and that may offer numerous amenities. Before you put your home on the market, invest in hardwood floor refinishing in Newtown Square.
Reasons to Refinish the Floors Before Listing Your Home
You probably don't want to spend a lot of money to spruce up your house, especially since you won't be living there to enjoy any upgrades you make. You don't have to fix everything that is broken or worn out, but you should make some repairs that will help you entice buyers and that will pay off when you sell.
Prospective buyers will immediately notice the condition of the floors in your home. With newly refinished hardwood flooring, you can ensure that people who view your house will be impressed. That may help you attract one or more offers quickly.
Refinishing your hardwood floors can provide a good return on investment. You will likely recoup most or all of the amount you spend on refinishing when you sell your house.
Why You Should Hire Professionals
You may be thinking that you could refinish your hardwood floors yourself to save some money, but that could backfire. Sanding and staining hardwood flooring is not as easy as TV shows and internet tutorials may make it seem. If you make a mistake (which is likely if you don't have the right training), you will have to pay professionals to fix it. You would be better off hiring hardwood flooring specialists at the outset.
Learn More About Hardwood Floor Refinishing in Newtown Square
The process of selling your house may be long and complex. The sooner you have your hardwood floors refinished, the better. That will allow your real estate agent to have professional photos and videos taken showing your home in its best light so it will appeal to prospective buyers.
Barbati Hardwood Flooring has restored hardwood floors in homes all over Pennsylvania. We can rejuvenate your floors and help you get your home ready to sell. Call us today at (484)354-8869 to request an estimate for hardwood floor refinishing in Newtown Square.