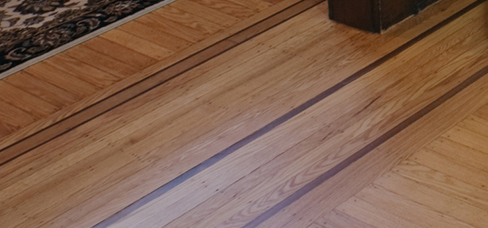 An inlay border is a striking feature you can add to your wooden flooring. It will enhance your boards and draw attention to the best parts of your space. At Barbati, our pros can create striking patterns, beautiful medallions, and more to unlock the full potential of your flooring. In this article, we discuss how to utilize hardwood inlay borders in your home.
At Barbati Hardwood Flooring, we've been installing, restoring, and refinishing hardwood floors for more than three decades. This has armed us with the invaluable experience and expertise to turn your dream designs into reality. Contact us at 484-354-8869 to find out more about our flooring services.
How to Choose Inlay Borders for Your Hardwood Floors
Hardwood flooring inlays date back to the Roman Empire where homeowners used this easy enhancer to give their floors a sophisticated, luxury look. While homes have changed dramatically since then, inlays still remain popular with homeowners looking to upgrade their hardwood flooring.
But what are inlay borders? An inlay slots into your flooring adding character and depth and creating contrast. In most cases, this inlay is constructed from a different species of wood that is stained a darker color to help it stand out from your boards.
While many homeowners choose to install simple, vertical border inlays, you aren't limited to these strict straight lines. The pros at Barbati can create geometric patterns and intricate medallions to turn your hardwood floor into a true work of art.
Choosing the best inlays for your home will depend on your furniture, decor, and design goals. Simple borders shine in minimalist spaces, while more detailed designs work best in rooms with a classic aesthetic. If you need help choosing inlay borders, the team at Barbati is here to help.
Our flooring pros will visit your property, discuss your design goals, and provide recommendations on ways you can enhance your hardwood floors. We will then create inlays, medallions, and more to turn your vision into a hardwood reality.
Want Hardwood Inlay Borders? Speak to the Pros at Barbati
Elevate your hardwood floors to a new level of style and sophistication with help from the crew at Barbati. You will not find a more thorough or committed team of flooring experts. Call 484-354-8869 today to get started.