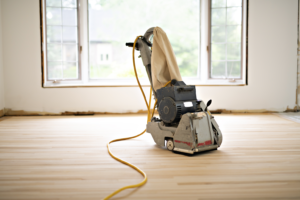 Hardwood floors can become severely damaged from years of people and pets walking, furniture scraping, spills, and sun exposure. Even floors that appear to be in terrible condition can often be restored so they look as good as new.
If you own a historic home and the floors are damaged, you may think that they will need to be replaced. The fact is that wood floors in old homes are generally of better quality than ones that are installed today, and it's often a good idea to restore old wood floors rather than replace them. The team at Barbati Hardwood Flooring can refinish the historic hardwood floors at your Chester County PA home.
Hardwood Floor Refinishing Process
Before we can begin working on restoring your hardwood floors, everything will need to be taken out of the room. Our team will sand the floor to remove the damaged top layers and reveal a fresh layer of wood in pristine condition. Then we will vacuum and wipe the floor to remove dust and fill in any cracks or gaps in the boards. If you would like to change the color of your historic hardwood floors, we can apply a stain. Then we'll apply a finish to protect the floor from future damage.
As we work on the hardwood flooring in your home, we may discover that one or more boards are so severely damaged that they can't be refinished and should instead be replaced. That won't be a problem. We have experience seeking out antique hardwood flooring to provide our customers with the closest possible match so that replacement boards blend in seamlessly with the existing ones.
Learn More about How Barbati Can Refinish Your Historic Hardwood Floors
Homeowners often have questions about the process of refinishing historic hardwood flooring. They also sometimes wonder if a complete refinish is necessary or if there is a simpler way to rejuvenate their floors.
We can inspect the condition of your historic hardwood floors and give you an honest assessment. If your floors are so damaged that they need to be sanded and refinished, we can explain the process and provide you with an estimate. Call (484)354-8869 today to learn more or to schedule a hardwood floor inspection.