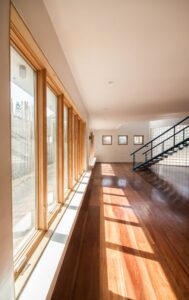 Hardwood floors can give your house a warm and welcoming appearance, impress your family and friends when they come to visit, and increase your home's resale value. For any home improvement project, it's essential to choose a contractor carefully. That is particularly important when it comes to hardwood flooring. If you're looking for highly qualified flooring contractors in my area, contact Barbati Hardwood Flooring.
Why You Should Choose a Company That Specializes in Wood Flooring
Many companies install and refinish hardwood floors, but they don't all provide the same level of service. Hardwood flooring projects are complex, and workers must have extensive training and on-the-job experience to do them correctly. A company that works on a wide range of home improvement projects is unlikely to have employees with a high level of expertise when it comes to hardwood flooring.
At Barbati, hardwood flooring is our specialty. If you hire our company to install or refinish hardwood floors in your home, you can be confident that we will do the job right and that you will be impressed with the results.
What We Can Do to Improve Your Home's Appearance
Our team can install your choice of unfinished, prefinished, or engineered wood flooring. If you want to give your house a unique design, we can install a distinctive border, medallion, or inlay.
If your house already has hardwood floors, but they have become scratched and gouged from years of wear and tear, we can refinish them and make them look as good as new. We can also replace any damaged boards so that it will be virtually impossible to tell that they weren't part of the original installation.
Contact Flooring Contractors in My Area
Barbati Hardwood Flooring has been serving Pennsylvania homeowners for over 30 years. We have consistently provided excellent results, and most of our current business comes from repeat customers and referrals.
Call Barbati Hardwood Flooring to discuss your hardwood floor installation or refinishing project and to get an estimate. If you aren't sure which type of flooring would be best for your home, or if you would like to have your existing hardwood floors refinished and you have questions about the process, a member of our team can provide whatever information you need. Call us today at (484)354-8869.