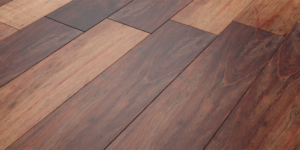 Hardwood floors often become damaged from people wearing high-heeled shoes, pets with untrimmed claws, and furniture scraping as it's moved. Worn hardwood flooring can have scratches or sometimes deep gouges, and the surface may be discolored if the finish is damaged or worn away. If your floors are in need of repair, contact Barbati Hardwood Flooring to learn about our worn hardwood floors solution.
How We Can Repair Your Floors
Our team can start by inspecting your hardwood floors to see how significant and widespread the damage is. The best worn hardwood floors solution is refinishing. We can repair scratches by sanding the surface with different grits of sandpaper to reveal a fresh layer of wood and create a smooth surface. If your floor has one or more deep gouges, we can apply a filler and then sand the surface to make it smooth. Once we have repaired damaged spots, we can apply a fresh layer of stain to match those areas to the color on the rest of the floor so you and your guests won't notice places that were fixed. We can also apply a finish to protect your hardwood floors from future damage so you won't have to make more repairs soon.
Trust Professionals for a Worn Hardwood Floors Solution
Many homeowners who want to save money try to repair damaged hardwood flooring themselves and come to regret that decision. Fixing hardwood floors is a difficult process. If you don't know how to do it and don't have the necessary equipment, it's easy to make mistakes. People who attempt DIY repairs often create more damage and have to hire a contractor to fix it. Save yourself the hassle and the added expense by trusting hardwood flooring professionals from the start.
Barbati Hardwood Flooring employs an experienced team who can restore your hardwood floors and dramatically improve their appearance. If you have a home with antique hardwood floors, we're up to the task. We have refinished floors in a number of historic homes across Pennsylvania.
We can explain the best worn hardwood floors solution for your home and make necessary repairs. Contact Barbati Hardwood Flooring today at (484) 354-8869 to request a quote.